We're in the throes of a cost of living crisis and it shows. in fact, according to government datathe prices of food and drink are rising at their fastest rates in over 45 years.
The largest contributors are cereal and bread, for which the average prices rose by 19.4% in the year to March 2023.
So, it makes sense then that many of us are choosing to buy more frozen foods.
According to data from Delivergrocery volumes are down 4% in the first quarter of 2023, but frozen food sales haven't dipped.
For some, though, this isn't good news, as according to a Tesco report from December 2022, frozen food still has a poor reputation with half (50%) of 18-24 year-olds believing that frozen food isn't good for you.
But this just depends on the type of frozen food. Frozen and canned fruits and vegetables count as one of your five-a-day (according to the NHS) so really, if you're looking to save money and stay healthy – not to mention cut down on food waste – these are more affordable options are ideal additions to your shopping basket.
1. Frozen peas
Starting good and strong with a family favorite: a bag of frozen peas. These can be added to a wide range of foods such as stews, mashed potatoes and even soups.
Peas contain heart-friendly minerals including magnesium, potassium and calcium and are also rich in antioxidant nutrients like vitamin C, as well as phytonutrients including carotenoids and flavonols which are heart protective and support cardiovascular function.
2. Frozen broccoli
A roast dinner staple – broccoli is a versatile veg full of antioxidants that can reduce inflammation, help your immune system and improve heart health.
It doesn't need to be defrosted and only takes 5-10 minutes to cook.
3. Frozen chopped garlic
In the UK, we are a nation of garlic lovers with 82% of people aged 18-24 say they love it. And luckily for us, it's also great for our health.
Forming the base of many meals, garlic is jam-packed with antibiotic properties and is great for the immune system, high blood pressure and brain health.
Keeping a bag of chopped garlic in your freezer will not only save your hands if they cramp easily, but it'll save you money and time.
It doesn't lose flavor when frozen, but does lose some of it's pungency.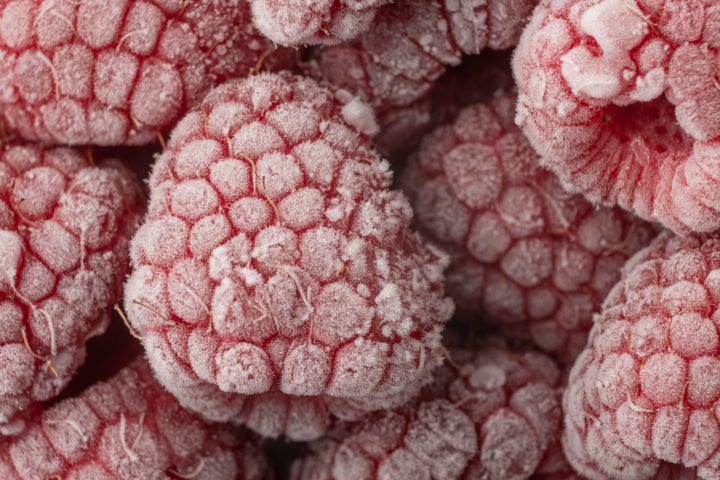 4. Frozen berries
Research from South Dakota State University found that frozen blueberries contain more antioxidants, which can help fight diseases including cancer.
Meanwhile frozen raspberries are a great source of vitamin C, which helps the immune system. These sweet little berries are an ideal addition to porridge, smoothies and pancakes, or even as a dessert.
5. Frozen sweet potatoes
Unlike everything mentioned so far, frozen sweet potatoes tend to be more expensive than "fresh" sweet potatoes – but freezing them doesn't make them lose nutrients.
In fact, frozen sweet potato has more beta carotene which converts into vitamin A for skin and eye health. Instead of buying frozen, you can buy fresh and chop into chunks for freezing before you need it for soups and stews.
6. Frozen fish
Frozen fish might raise a few eyebrows, but did you know that in the UK, most of the "fresh" fish we saw was actually previously frozen in order to be imported?
Freezing doesn't take away the nutritional value of fish which is great news as it contains omega-3 fatty acids and vitamins such as vitamins D and B2.
It also contains iron, zinc, iodine and magnesium. All of these are great for immunity and heart health.